Friends find business success through promises kept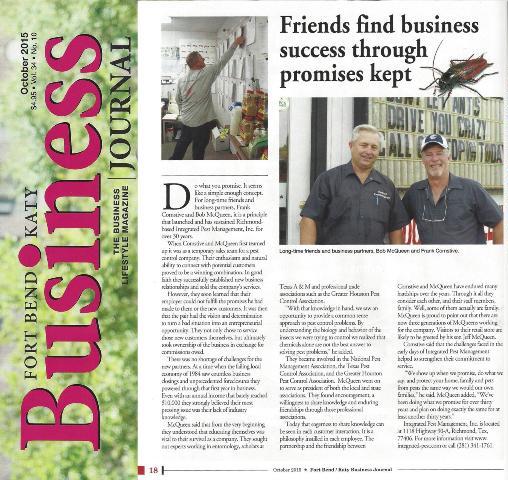 Do what you promise; it seems like a simple enough concept. For long-time friends and business partners, Frank Comstive and Bob McQueen, it is a principle that launched and has sustained Richmond-based Integrated Pest Management, Inc. since 1984.
When Frank and Bob first teamed up it was as a temporary sales team for another small Houston-based pest control company. Their enthusiasm and natural ability to connect with potential customers proved to be a winning combination. In good faith they successfully established new business relationships and sold the company's services.
However, they soon learned that their employer could not fulfill the promises he had made to them or the new customers. It was then that the pair had the vision and determination to turn a bad situation into an entrepreneurial opportunity. They not only chose to service those new customers themselves, but ultimately took ownership of the business.
There was no shortage of challenges for the new partners. At a time when the failing local economy of 1984 saw countless business closings and unprecedented foreclosures they powered through that first year in business. Even with an annual income that barely reached $10,000 they strongly believed their most pressing issue was their lack of industry knowledge.
Bob said that from the very beginning they understood that educating themselves was vital to their survival as a company. They sought out experts working in entomology, scholars at Texas A & M University and professional trade associations such as the Greater Houston Pest Control Association.
"With that knowledge in hand, we saw an opportunity to provide a common sense approach to pest control problems. By understanding the biology and behavior of the insects we were trying to control we realized that chemicals alone are not the best answer to solving pest problems," he added.
They became involved in the National Pest Management Association, the Texas Pest Control Association, and the Greater Houston Pest Control Association. Bob went on to serve as president of both the local and state associations. They found encouragement, a willingness to share knowledge and enduring friendships through those professional associations.
Today that eagerness to share knowledge can be seen in each customer interaction. It is a philosophy instilled in each employee. The partnership, and the friendship, between Frank and Bob has endured many hardships over the years. Through it all they consider each other, and their staff members, family. Well, some of them actually are family. Bob is proud to point out that there are now three generations of McQueens working for the company. Visitors to their retail store are likely to be greeted by his son Jeff McQueen.
Frank said that the challenges faced in the early days of Integrated Pest Management, Inc. helped to strengthen their commitment to service.
"We show up when we promise, do what we say, and protect your home, family and pets from pests the same way we would our own families," he said.
Bob added, "We've been doing what we promise for over thirty years and plan on doing exactly the same for at least another thirty years."
Integrated Pest Management, Inc. is located at 1118 Highway 90A, Richmond, TX, 77406. For more information call (281) 341-1761.