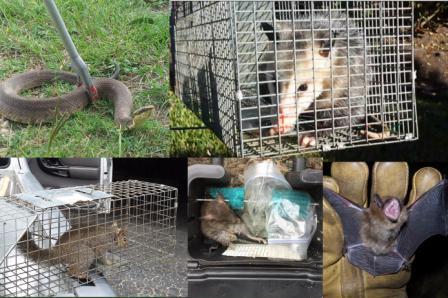 Have you ever found yourself wondering, "Who am I going to call about this?" Integrated Pest Management, Inc. has a long list of specialty services including rodents, snakes, bats, nuisance birds, wasps in the attic and a variety of trapping services that may just eliminate your problem.
In addition to eliminating these pests from your home, you want to do everything possible to reduce the possibility that they will return. We offer Exclusion Services against rodents, birds, bats and insects for just that purpose.
What is an Exclusion Service? We are so glad you asked.
Pest exclusion is an essential component of a complete pest management plan. It is your first line of defense against a pest invasion. The first step in this process is to thoroughly inspect the building for vulnerable areas and fortify them wherever possible. The key to pest exclusion is sealing and securing all possible points of entry into the dwelling. Sealing gaps and crevices will help prevent rodents and pests such as cockroaches, rats, and mice from easily entering and traveling from one area of your home to another without being seen. 
The idea behind this integrated pest management tactic is that it's much easier (and safer for the environment) to simply keep pests out than to reverse an infestation once it takes hold.
Other Pest Trapping and Remediation
Most specialty pest services are set up on a case-by-case basis. No two jobs are going to be exactly the same. A thorough inspection is almost always a recommended starting point.